Employee & Client Gifts From Michigan
Whether you need 15 gifts or 5,000 - we make it fast and easy!
Start Your Order
Our Cherry Republic Gift Ambassadors are ready to do the heavy lifting this holiday season to help you find the perfect gift for everyone on your list!
Choose from our wide selection of pre-made gifts, or create your own.
Thousands of businesses count on Cherry Republic to send the perfect gift to customers and employees each year. Why? Our Michigan cherry products are of the highest quality,
we stand behind every order with a 100% guarantee, and our top-notch Customer Service Team makes ordering easy. It's that simple.

No wonder we've shipped more than 1.5 million gifts over the past 30 years. In fact, as the world's largest cherry retailer, Cherry Republic has perfected the art of gift giving!
"Incredibly easy to order, great gift selections, easy to pick when working within a budget, the forms for employee addresses were easy to complete, and the service was EXCELLENT!!! I submitted an order right before Christmas, the busiest time of the year for your team, and they responded quickly and with a virtual smile."
– Megan, Riverside Energy Michigan


"Everything was problem-free from placing the order all the way to the on-time delivery. Not to mention reasonably priced and extremely well packaged, too.
I am so happy that I purchased this year's gifts from Cherry Republic. You guys are the best."
— Julie, Zeal Credit Union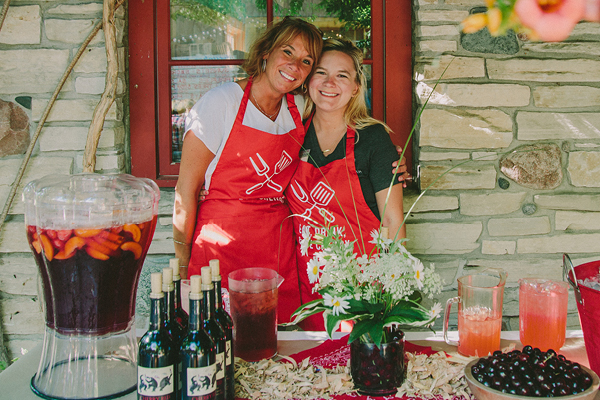 So Many Reasons To Give!
While the holidays are a special time to recognize staff, clients, and business associates, don't forget to reach out to them throughout the year for occasions like work anniversaries, promotions, and client thank-yous. And mark your calendar for calendar appreciation day on March 3, 2023!
Make It Personal! Build A Custom Gift
For a truly personalized gift, we invite you to curate your own gift box! This allows you to shop our many unique products
and select the ones you feel best 'match' your recipient.

Say your executive assistant loves dark chocolate. You'll make his or her holiday sweet by choosing our Exceptionally Dark Chocolate Covered Cherries, Dark Chocolate Covered Cherry Nut Mix, and our Dark Chocolate Cherry Turtles. Or maybe word on the street is that your top customer loves spicy foods. Our Cherries on Fire Salsa, Spicy Cherry Barbecue Sauce, and Ghost Pepper Sauce are just the ticket!

And whether you choose a Cherry Republic classic gift box or you choose to build your own, you can rest assured knowing that all Cherry Republic gifts receive complimentary gift boxing, which includes a fresh Northern Michigan pinecone, a cedar sprig, and a piece of birch bark, along with a gift card by a local artist that carries your personalized message.

Not sure where to begin? Our dedicated team of Business Gift Ambassadors are standing by to help you create the perfect gift for everyone on your list. They can also guide you to choose thoughtful, personal gifts that also align with your budget.

Let's get started!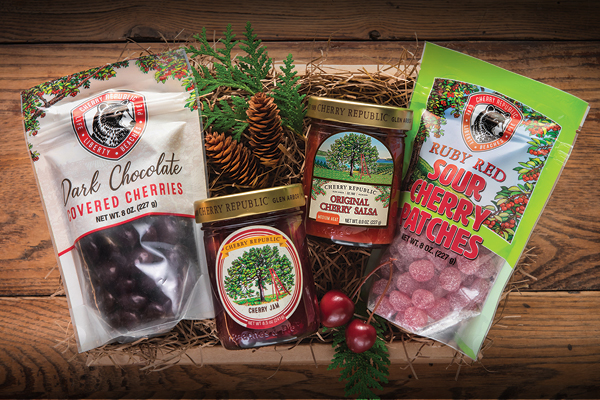 "Thanks so much for getting our cherries out so quickly. I am getting notes from friends and business associates who are delighted to receive the cherries."
— Kathryn, Powell Management Group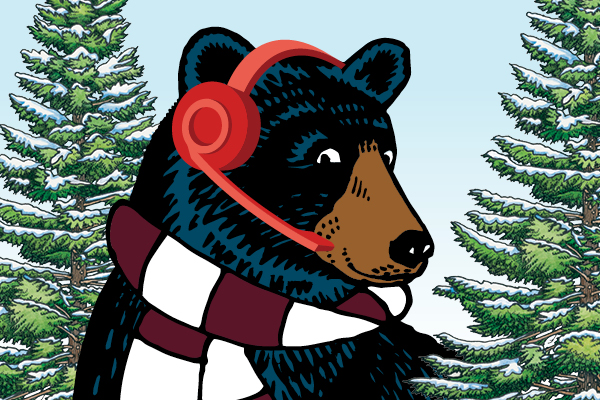 Have A Question About Business Gifts?
Gifts For All Budgets
A well-defined budget is the sign of an organized and successful business. That's why we offer value-packed gifts at a variety of price points. Whether you choose from individual gift boxes starting at just $25 or you choose to create your own custom gift box from our huge variety of specialty foods, we will provide gift boxing at no additional charge. The possibilities are endless!
"The team was very helpful in advising me on a product and getting the order placed quickly. My toughest client was thoroughly impressed with the packaging and the product.
She actually raved about it!! Thank you!"
— TK, Southern Engineering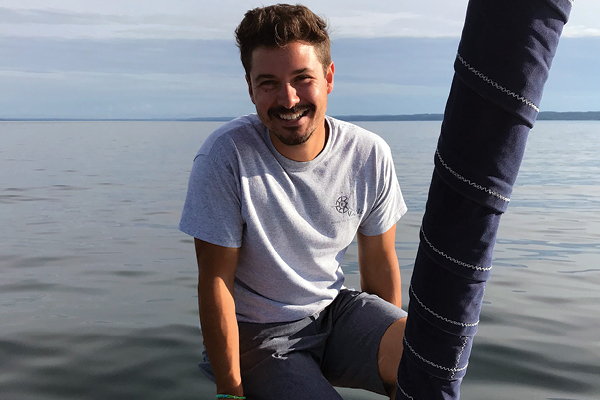 Personalized Service
Our Cherry Republic Gift Ambassadors are ready to do the heavy lifting of gifting! Our staff is trained to make even the most important, large and complicated orders easy on your staff. We will take on the time-consuming duties of data entry, procuring, packing, and shipping so you can stay focused on your core competencies (while we focus on ours). Simply choose from our wide selection of pre-made gift boxes or create your own custom box. Then send us your info and let us do the rest. Relax and Enjoy your holidays kowing that Cherry Republic is taking care of your gifts!
Free Gift Boxing
At Cherry Republic, we love where we come from and want to share it with everyone we send a gift to! So we lovingly pack each box with a fresh cedar sprig, a piece of birchbark, and a pinecone — along with a local artist's illustrated gift card. It's the perfect way to send a personalized and meaningful gift to the employees and customers on your list.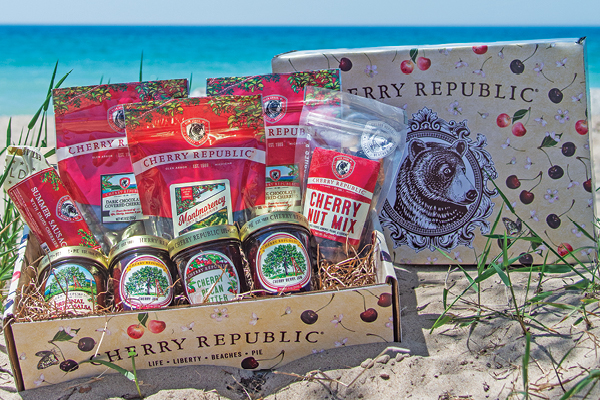 "Cherry Republic's Business Gift staff provided excellent custom and tailored service. Everyone was great to work with on my order"
— Amanda, LimnoTech

Free Shipping Boxes
We know how important it is to keep the accounting department happy, which is why we offer a generous selection of Free Shipping gift boxes. What a great way to stretch your budget further!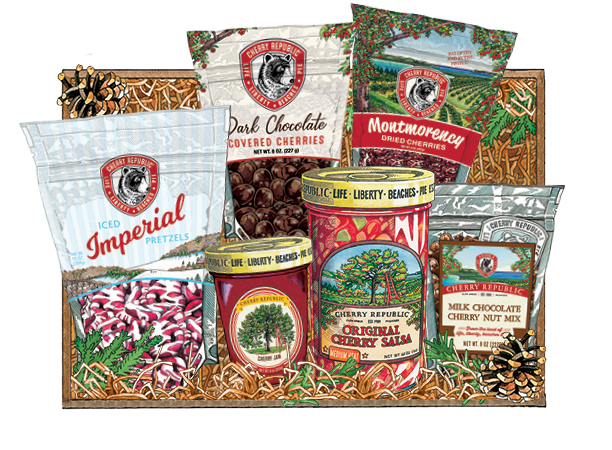 Bounty of the County Gift Box
$85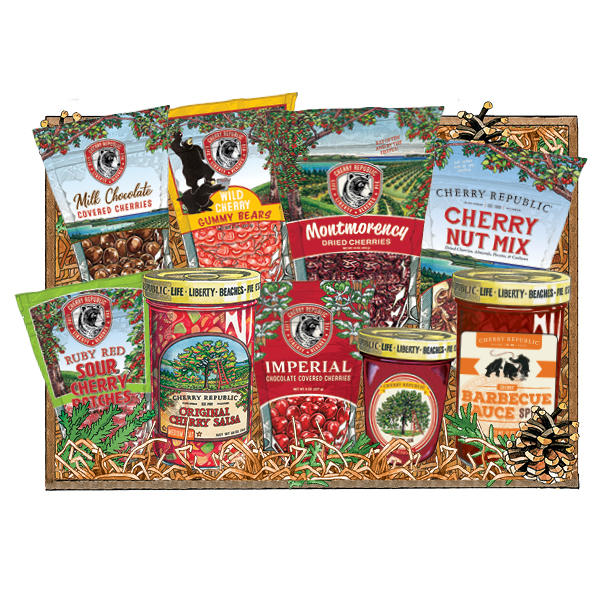 Something For Everyone
$110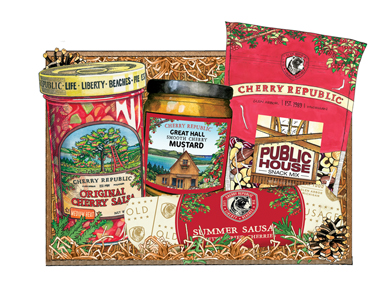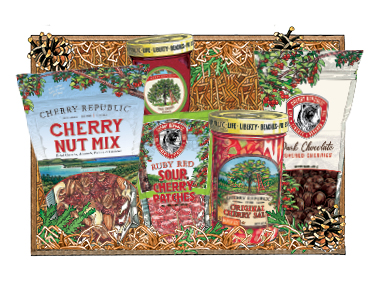 Absolute Best Gift Box
$75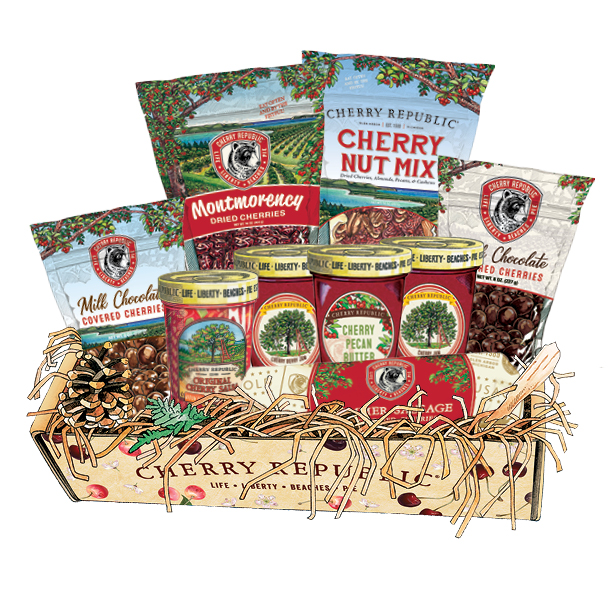 Give The Store Gift Box
$120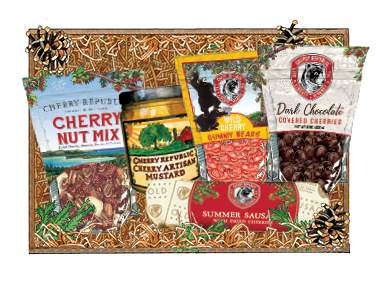 Sweet & Savory Gift Box
$65
"Cherry Republic has become my go-to source for holiday season gifts, birthday gifts, and thinking-of-you gifts. After growing up in Flint, graduating from Michigan State, and starting my journalism career in Flint, I left to work for newspapers in Houston and California. During visits back to see family and friends over the years, I discovered Cherry Republic products. And in my retirement years, my emotional ties to Flint and Michigan have grown stronger. I'm happy when I enjoy and share Cherry Republic goodies with others."
— Dave P., Long Beach, CA