Our mission statement — Life, Liberty, Beaches & Pie — is packed full of meaning, but perhaps the most meaningful value we strive to live out is that of Pie, which represents generosity and is at the heart of all we do at Cherry Republic.

This spirit of giving has inspired us, along with our loyal customers, to award grants totalling more than $2.5 million over the past 30 years in support of clean energy, farmland preservation, outdoor recreation, and youth development.

Won't you join us?
Spreading Cherry Cheer to All
In March 2020, we launched a campaign designed to acknowledge those who had gone out of their way to help others during the COVID and to spread cheer to those who simply needed a pick-me-up during these challenging and uncertain times. Over four months, we gifted nearly 75 Cherry Cheer Gift Boxes to well deserving souls all across the United States. Along the way, we met inspiring people and shared their heartfelt stories in our Operation Cherry Cheer blog. In May, we moved into Phase II — Cherry Acts of Kindness — when our Cherry Ambassadors randomly delivered cherry goodies to the doorsteps of unsuspecting neighbors in our retail store communities.

Learn More...
Munching Our Way to Clean Air
We unveiled our 'Cherrish Michigan' campaign in May of this year. With every purchase of select bags of our fruit and nut mixes, we donate $1 to some of our favorite environmental non-profits that are helping to protect Michigan's land, water and quality of life. They include TART Trails, Circle of Blue, Friends of the Sleeping Bear Dunes, Crosshatch Center for Art & Ecology, For Love of Water (FLOW), Michigan Climate Action Network, Groundwork Center for Resilient Communities, Michigan League of Conservation Voters, and the Inland Seas Education Association.

Learn More...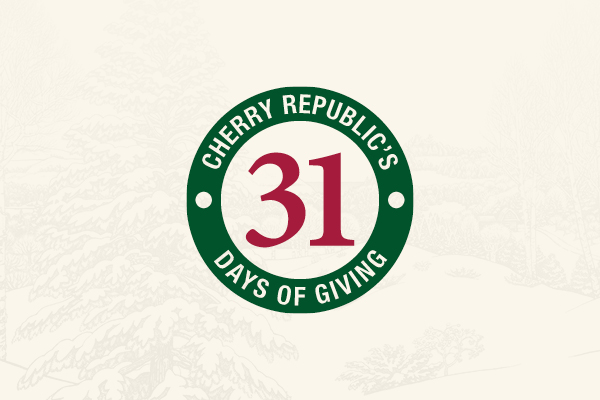 Our Season of Giving
Our oldest charitable giving initiative is our annual 31 Days of Giving campaign. Throughout December, we announce grants to non-profit organizations throughout Michigan. Over the years, the gifts have benefited everyone from children and families (Boys & Girls Club of Greater Flint and Traverse City's Boots For Kids) to our beloved national lakeshore (Leelanau Conservancy and the Sleeping Bear Heritage Trail). But over the past few years, the imminent threat of climate change has caused us to laser-focus on those groups that promoted clean and renewable energy. Whether supporting local farmers who are building solar- and wind-powered solutions or political action groups like the League of Conservation Voters, we are committed to addressing the largest environmental threat our world has ever faced.

Learn More...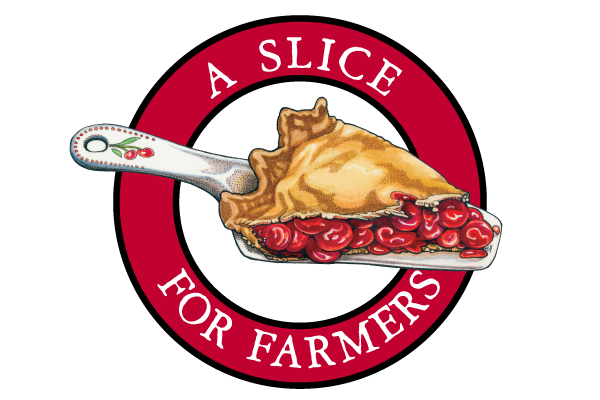 When someone comes into one of our stores we charge them a refundable 1% tariff on their purchase. This tariff was enacted by the Cherry Republic legislature in 2002. The typical tariff amount on each purchase is 25 cents. This money is set aside and donated to agricultural programs in northern Michigan. Our primary focus is on preserving our farmland forever and strengthening the new small farm economy in Northern Michigan.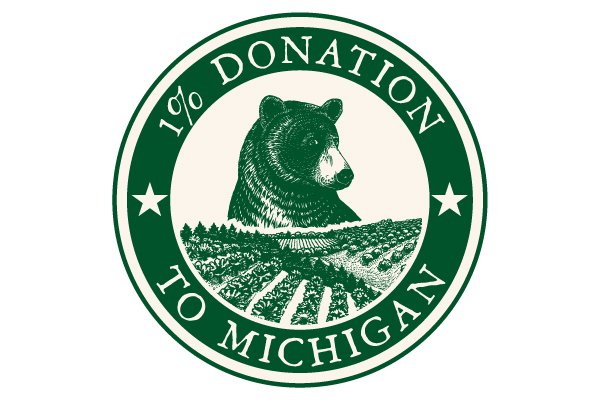 Nearly 20 years ago, after spending a weekend with Patagonia co-founder Yvon Choinard, Bob committed Cherry Republic to giving 1% of all sales to environmental and community groups. An average sale is $65, which raises just 65 cents. Yet over the years, this program has become our biggest revenue generator, allowing Cherry Republic to give more than $2 million dollars to worthy groups protecting our land, air and water in Michigan. Setting aside '1% off the top' for worthy organizations is the most meaningful activity we do as a company and binds our employees together. It is our goal over the next decade to inspire other companies to follow this same model for the betterment of our communities and environment.